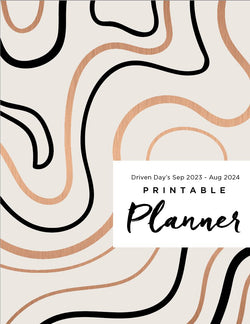 Driven Day
Driven Day's September 2023 - August 2024 Religious Printable Planner
Download our September 2023-August 2024 Planner NOW!
Benefits include: 
- Immediate access instead of waiting for the product to ship.
- Print out one month, three, or five as you go.  Make your planner work for you!
- Add in your favorite printables and customize your planner.
- A more economical way for first-time planner people to test drive the  Driven Day Planner.
Specs:  Entire Planner Supplement Contains All Pages from September 2023-August  2024
Including Calendar, Shabbos and Yontif, Daily Pages, and More.  See Inner Pages of Actual Product Pages for more Specifics.