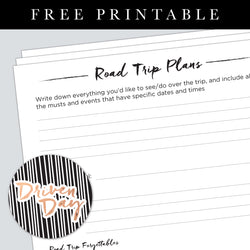 Driven Day
Road Trip Printable
Hey guys its Aviva! 
As a freelance graphic designer, you find yourself by yourself a lot. A big goal of mine was to help create a community of Jewish women who are creatives in marketing. We all go through the late nights, non maternity leaves, tough clients... I am so proud to be part of the Confident Creatives community, it's a step towards this goal of mine. We are hosting our first networking event November 25th.
Another personal goal of mine is more focused family time, so my husband and I decided to turn this event into a FAMILY ROAD TRIP! #winwin
So without further ado, we present a road trip printable... Driven Day style.